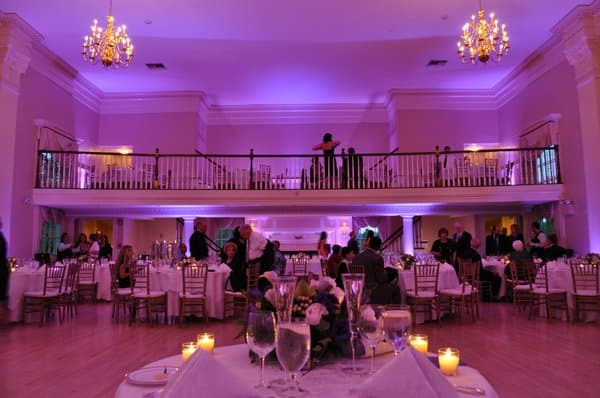 The outdoor garden terrace, situated in the lovely and historic Topsfield, is the ideal site for a wedding ceremony and cocktail hour.  The large Maple trees provide a soft filtration of sunlight to help create perfect wedding photos.  The outdoor space at The Commons 1854 may be incorporated as you begin planning the perfect celebration.  One may arrange to have a tented area, or simply enjoy the open air and surrounding tall trees of which Topsfield is known for.  The beautifully landscaped lawn area also includes a lovely water feature which is edged with an assortment of colorful flowers. The outdoor lawn is an amazing scenic location with its own charming photographic backdrop. This unique area provides the perfect setting to capture your special day forever.
During the cocktail portion, while the bridal party is taking formal photos on the mahogany deck in the garden terrace, guests will enjoy the mahogany bar in the Greek neo-classical cocktail area boasting unique rooms. The rotunda area is adorned with sweeping white pillars, Corinthian columns and two working marble fireplaces.  The ivory marble floored foyer with large windows and beautiful drapes create the ideal atmosphere for guests to enjoy cocktails and hors'd oeuvres while they mingle.
The grand ballroom boasts high ceilings, dramatically large windows, and is accented by graceful brass chandeliers, custom lighting, and gleaming hardwood floors. The comfortable air conditioned wedding venue overlooks Topsfield's historic town common and its lush green lawn as well as classic New England history. The ballroom converts into a beautiful ceremony space for any season. The Commons 1854 ballroom is perfectly situated for a reception of 200 guests.
The Commons 1854 provides a special Bridal Suite which is perfectly suited for a bride to relax and prepare before her wedding ceremony.  The combination of beautiful hand carved crown molding, silk curtains adorned with crystals, antique oriental rugs and great seating make this private area the perfect photographic setting. If the ceremony is off site, a personal bridal coordinator will usher the bridal party and parents to the formal photo site, treat you with tasty cuisine and beverages while storing personal belongings in the bridal suite for the entire event for safe keeping.
The Grooms Room at The Commons 1854 is the place to relax with groomsman. Elegant and private, this room was designed to calm adorned with an indoor waterfall and calming decor.  Coupled with the bridal suite, this space provides you with a comfortable partition prior to the nuptials.
Travelling to or from Topsfield Commons? For business or leisure? Need a ride to or from Topsfield Commons? We provide Topsfield Commons Minibus Transportation, Topsfield Commons Limobus Transportation, Topsfield Commons Car Service, Topsfield Commons Limo Service and just about any other service you can think of!