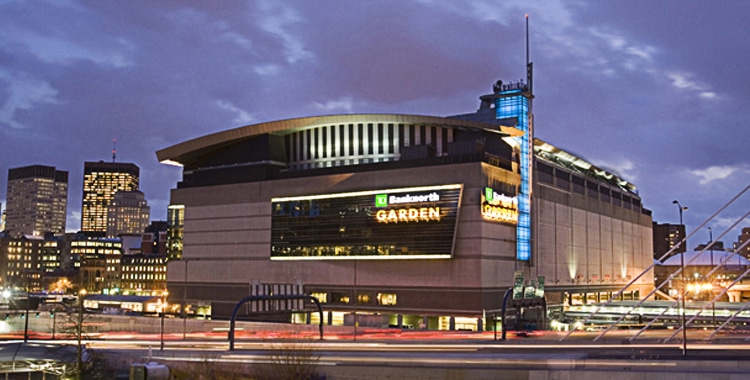 The
TD Garden
is a multi-purpose arena in Boston, Massachusetts. It is named after its sponsor, TD Bank, a subsidiary of Canada's Toronto-Dominion Bank. TD Garden is the home arena for the Boston Celtics of the National Basketball Association and the Boston Bruins of the National Hockey League. It is owned by Delaware North, who's CEO, Jeremy Jacobs, also owns the Bruins. It is the site of the annual Beanpot college hockey tournament, and hosts the annual Hockey East Championships. The arena has also hosted many major national sporting events including the 1999, 2003, and 2009 NCAA Division I Men's Basketball regional first and second rounds, the 2009 and 2012 Sweet Sixteen and Elite Eight, the 1998 Frozen Four, the 2004 Frozen Four, and the 2006 Women's Final Four. It also hosted the home games of the 2008 NBA Finals and 2010 NBA Finals, as well as the 2011 Stanley Cup Finals and the 2013 Stanley Cup Finals for the Celtics and Bruins, respectively.
TD Garden is one of two NBA arenas (along with Amway Center, home of the Orlando Magic) with parquet floors. The Celtics are best known for the tradition of the parquet floor from their Boston Garden years, originally built after World War II because of cost and the scarcity of lumber in that time. However, a traditional floor was used in the 2006 NCAA Women's Final Four and the 2009 NCAA Men's East Regional (NCAA rules require a special NCAA-specification floor be used for all tournament games). When the 2012 NCAA Men's East Regional was held at TD Garden, a lighter-shaded parquet floor was used, with the same NCAA-specific design.
The very first concert ever hosted at the now TD Garden was R.E.M. on October 2, 1995. Since its grand opening in 1995, more than 30 million people have come to the TD Garden to see the arena's famous tenants, the NHL's Boston Bruins and NBA's Boston Celtics, as well as world-renowned concerts, sporting events, family shows, wrestling, ice shows and so much more. Home to approximately 200 public events annually, the TD Garden hosts well over 3.5 million people each year. Among the non-sporting events hosted by the Garden are concerts, shows, graduations, seminars, Disney on Ice, the circus, and commencement exercises for Northeastern University. Comedians such as Tim Allen, Denis Leary, Chris Rock and Louis C.K., among many others, have all performed at the TD Garden during their nationwide tours.
Travelling to or from the TD Garden? For business or leisure? Need a ride to or from the TD Garden? We provide TD Garden Minibus Transportation, TD Garden Limobus Transportation, TD Garden Car Service, TD Garden Limo Service and just about any other service you can think of!