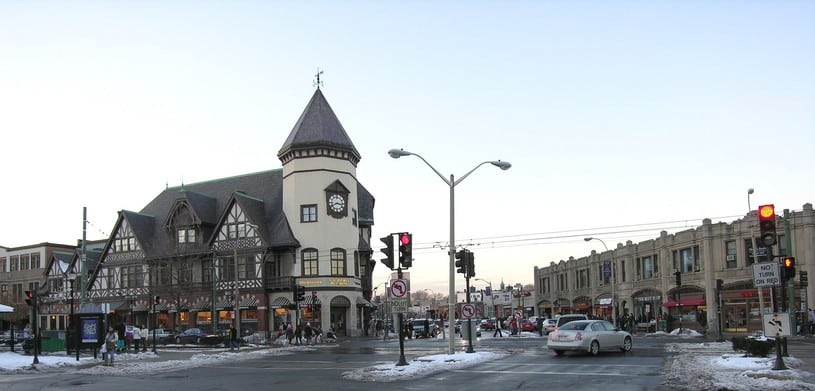 As close as Brookline is to Boston, it has managed to maintain its own identity. Brookline features a mixture of urban and suburban living, upscale shops and recreational parks, apartment buildings and large estates. Along with offering both a city atmosphere and a feeling of being in the country, there is a wide mix of people in Brookline. It is the home of many academic and scientific professionals who work at the nearby medical centers in Boston. Brookline has staunchly refused to be absorbed by Boston, which surrounds it like a horseshoe. Brookline has kept its town meeting form of government since its 1705 incorporation. It also has an overnight on-street parking ban which is unusual for such a dense area. Among its many unusual resources, Brookline has its own working farm (with farm stand), the oldest country club in the nation, a town golf course, a park on a hillside overlooking Boston with an open-air skating rink and transportation museum, as well as numerous neighborhood parks and playgrounds scattered throughout the town.
Its major retail centers, including Coolidge Corner, Brookline Village, Washington Square, Cleveland Circle and the Chestnut Hill Shopping Center, are pedestrian-oriented shopping areas with a variety of stores, restaurants and malls. Although predominantly residential, Brookline is somewhat open to new commercial development, and has amended its zoning to encourage limited growth along its major thoroughfares.
Brookline is known in the Boston area for its large population of Russian and Israeli immigrants and numerous synagogues. Jewish culture is very strong in Brookline; the Jewish population was estimated in 2002 at 20,300. Jewish culture is especially notable along the section of Harvard Street that starts at Washington St. (Brookline Village) runs through Beacon Street (Coolidge Corner) and ends at Commonwealth Avenue, continuing into Allston-Brighton. This neighborhood is home to at least three area synagogues, including the first Jewish congregation in Massachusetts (Ohabei Shalom, founded in Boston in 1842 and located in Brookline since the 1920s), and a number of Jewish-themed restaurants and stores. Brookline is also known for its excellent schools, which are supported in large part by property taxes—the town has one of the highest property tax burdens in the country.
While residents of Brookline tend toward liberal values, economic and cultural factors keep this section of the Boston metropolitan area less diverse than its neighbor across the Charles River, Cambridge. Brookline's liberalism and diversity are relatively new developments in the town's history.
Travelling to or from Brookline? For business or leisure? Need a ride to or from Brookline? We provide Brookline Minibus Transportation, Brookline Limobus Transportation, Brookline Car Service, Brookline Limo Service and just about any other service you can think of!