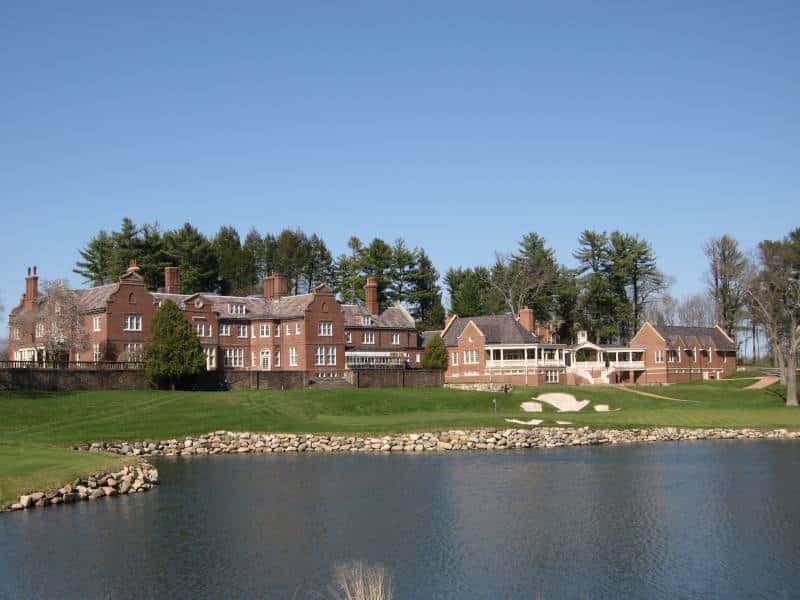 Weddings at Turner Hill in Ipswich make for an unforgettable day for a bride and groom. The mansion and notable grounds boast many different areas to accommodate different types of ceremonies and wedding receptions. Nestled in the geometric gardens, the outdoor wedding chapel not only entertains colorful flowers, but also a turn-of-the-century fountain, with vines that crawl up the large stone columns, forming a distinctive and romantic canopy. It will certainly set the tone for a fine wedding. As your wedding guests arrive, let them enjoy a cocktail hour on the ivy-covered terrace. Located directly behind the brick Mansion, and bordered by the historic gardens and balustrades, your guests will be sure to enjoy their first-class drinks, as well as their view.
For wedding receptions, the grand ballroom can accommodate up to 140 guests, with 70 additional seats in the Marble Dining Room. Turner Hill's 40 x 80 contemporary tent with teak flooring can host 250 guests and offers a beautiful outdoor setting situated within the captivating gardens. In addition, many of the Mansion's rooms are the perfect setting to host Rehearsal Dinners. Turner Hill will undoubtedly provide a spectacular space for both you and your wedding guests.
Not only does Turner Hill provide a beautiful place to get married, it also provides a luxurious space for the wedding party to relax and prepare prior to the wedding. The bridal suite may be accessed 2 1/2 hours before the wedding. The suite offers plenty of natural sunlight (an ideal condition for a makeup artist) and a beautiful view across the lake. The groom and his groomsmen may relax and enjoy one another's company in Mr. Rice's private library, while watching a few innings on the big screen HD television.
Travelling to or from Turner Hill? For business or leisure? Need a ride to or from Turner Hill? We provide Turner Hill Minibus Transportation, Turner Hill Limobus Transportation, Turner Hill Car Service, Turner Hill Limo Service and just about any other service you can think of!