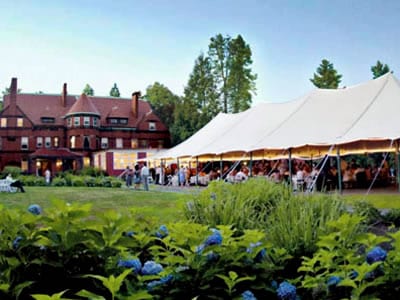 The Stevens Estate was built in 1886 by Moses T. Stevens, a prosperous owner of textile mills and a member of one of the founding families of North Andover. The house and outbuildings were designed by the Boston architects Hartwell & Richardson and sit atop Osgood Hill. The beautiful oak and mahogany paneling, leaded stained glass windows and imported marble fireplaces are a testament to its grandeur and significance in the Boston area. The Stevens family maintained the Estate until the 1950s, when they donated the property to Boston University.
The Town of North Andover purchased the Stevens Estate in 1995 to protect it and preserve its grounds. On the National Register of Historic Places, the Stevens Estate is one the few remaining grand estates of the Victorian era.
Your Wedding will be a memorable occasion at the Stevens Estate. Whether a large celebration under the tent, or an intimate gathering in the mahogany double parlor, the wedding consultant at the Stevens Estate will assist clients in customizing event details.
The majestic and serene setting of the Stevens Estate can accommodate up to 220 guests on the tented cobblestone terrace, and up to 180 inside the stately mansion. Weddings include use of the Bridal Suite during the event. Additional guest rooms may be reserved for an overnight stay.
Travelling to or from The Stevens Estate? For business or leisure? Need a ride to or from The Stevens Estate? We provide Stevens Estate Minibus Transportation, Stevens Estate Limobus Transportation, Stevens Estate Car Service, Stevens Estate Limo Service and just about any other service you can think of!