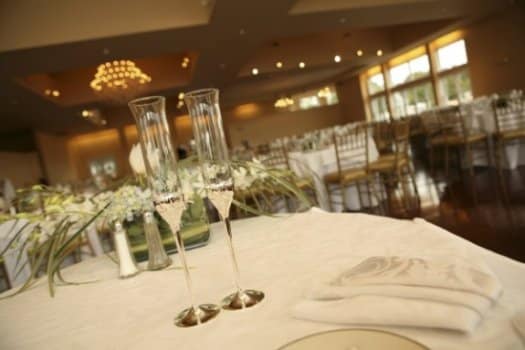 Cruiseport Gloucester is the newest, most luxurious waterfront wedding destination north of Boston. It is run impeccably with meticulous attention to detail to ensure clients that their venue is among the best of the best. With over 20 years of experience in the hospitality industry, Sheree DeLorenzo and her team are dedicated to fulfilling newlywed dreams. They can help you plan your entire event from selecting an officiant to wedding photography, cake, entertainment, flowers, lighting, transportation and those special extras that make your day as unique as you are. Cruiseport Gloucester has been awarded the Wedding Wire Bride's Choice Award 2012 and the Knot Best of Weddings 2013. There are onsite professional wedding planners to work with clients on the day of their wedding so that they can relax and enjoy their dream day.
Guests will make their entrance through the classic lighthouse turret into the 6,000 square foot Grand Ballroom with spacious windows, vaulted ceilings, crystal chandeliers, hardwood floors that are polished daily, and no columns or obstructions of any kind.Wedding guests will enjoy the spectacular view of Gloucester's historic harbor from the enchanting waterfront balcony during cocktail hour. Clients have the ability to choose their own colors, lighting, linens and decorations. Every wedding hosted at Cruiseport Gloucester is unique and embodies the spirit of the couple and their families.
Cruiseport Gloucester also hosts special events such as Birthday, Graduation, Confirmation, First Communion, Bar Mitzvah, Bat Mitzvah, Quinceañera, Fund Raiser, Retirement, Holiday, or any theme party you like that will delight every guest. The Grand Ballroom accommodates large parties and the Harborview Room at dockside is perfect for smaller gatherings, such as bridal and baby showers, post gatherings, trade shows and corporate meetings. Both rooms come with a private, full service kitchen, ensuring the quality of fresh and hot entrees. Bar management, bartender, and cocktail services are provided at no additional charge. There is ample free parking and the venue is completely handicap accessible.
Cruiseport Gloucester also features the Seaport Grille. Patrons will enjoy fresh local seafood, prime meats and the best view of Gloucester's authentic working waterfront in America's original seaport. The restaurant is situated across from The Crow's Nest, Paint Factory and other landmarks featured in The Perfect Storm.
Travelling to or from Cruiseport Gloucester? For business or leisure? Need a ride to or from Cruiseport Gloucester? We provide Cruiseport Gloucester Minibus Transportation, Cruiseport Gloucester Limobus Transportation, Cruiseport Gloucester Car Service, Cruiseport Gloucester Limo Service and just about any other service you can think of!