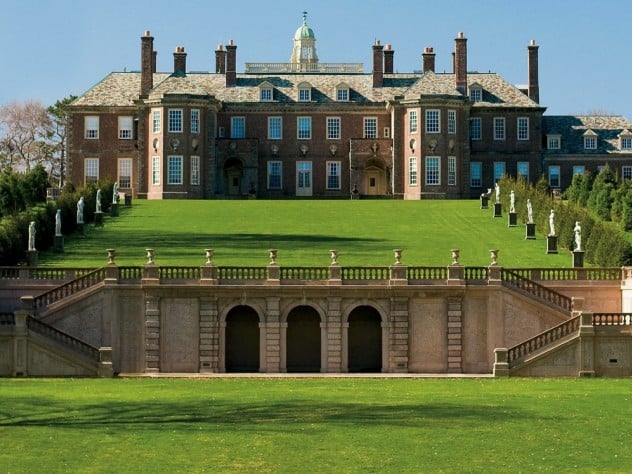 The spectacular Crane Estate encompasses more than 2,100 acres in Ipswich, Massachusetts. The Estate is made up of three properties: Castle Hill, a National Historic Landmark that is the home of The Great House, a spectacular venue for weddings and corporate events, guided tours, and programs. Crane Beach is a popular public beach and summer destination. The Crane Wildlife Refuge, a natural treasure boasting many rare plant and animal species. From a wedding standpoint, couples are given a plethora of options to celebrate their special day.
Castle Hill is part of The Crane Estate, encompassing more than 2,100 acres overlooking Crane Beach, Crane Wildlife Refuge, and winding salt marshes. The exclusive use of the Great House is where simplicity meets elegance. Sitting high above beautiful Crane Beach and the Atlantic Ocean, The Great House on the Crane Estate offers a dramatic setting for weddings with extraordinary atmosphere and breathtaking views along the half-mile-long manicured lawn known as The Grand Allée.
The Casino Complex is a picturesque setting for daytime events. It is made up of the Ballroom and the Bachelor Quarters. The historic, Italian-style villas are located along the rolling lawn of the half-mile Grand Allée, halfway between the spectacular Great House and the sea. With space for up to 80 guests inside, The Casino Complex offers an elegant and inspiring getaway for corporate retreats, seminars, and private events. The lawn area provides additional space for mingling or games such as croquet.
Schedule a day at Steep Hill Beach on the Crane Estate for fun in the sun. This secluded stretch of white sandy beach at the western edge of Crane Beach is the perfect destination for your company's summer outing, private family function, or a day of wedding bliss. You can have a clambake or barbecue, play volleyball, kayak, build sandcastles, swim or just plain relax. From the lawn area, you'll enjoy beautiful views of Plum Island and the Atlantic, and you'll have direct access to Steep Hill Beach. From there, you can explore Cedar Point marshes along Fox Creek and Crane Beach dunes. History buffs can also tour of the spectacular 59-room Great House during your visit during regular tour hours. Your rental includes use of the North and South lawns, which can accommodate up to 200 people per lawn area. It's easy to get your rental started: First, choose the North or South lawns – or both – for your exclusive use. Next, choose from one of our exclusive caterers for a barbeque or picnic on the lawn. Finally, choose to play volleyball or bring your own games. Or just swim and relax during your day at the beach.
Nestled amid the stunning landscape of Castle Hill, The Crane Barn is a handsome model of rustic times gone by. A study in old-world craftsmanship, this historic, Italian-style barn is a singular and gorgeous setting for your event. Boasting warm terra-cotta walls, a post-and-beam interior, wood floors, and a tiled roof, The Barn on The Crane Estate can accommodate up to 140 people for a unique New England celebration. For a truly unforgettable event The Barn will delight your guests with breathtaking views of winding salt marsh, tidal rivers, and woodlands, with the Atlantic Ocean on the horizon.
Originally built as a gathering place for Cornelius Crane and his friends, today the historic "Tavern" offers an unforgettable setting for business retreats, private celebrations, and more. Breathtaking views of salt marsh, tidal rivers, woodlands, and the Atlantic Ocean greet guests from the Tavern's terrace. This charming building mimics the style of an old Colonial tavern, with wooden post and beams throughout, an eight-foot working fireplace, and diamond-paned leaded-glass windows. With space for 16 to 40 people and Wi-Fi service, you can unplug while still staying connected.
Located in the heart of the spectacular Crane Estate, the Inn at Castle Hill offers simple yet luxurious pleasures, giving you the chance to reconnect with what really matters to you. All ten rooms at the Inn are uniquely appointed, and many feature stunning views over the salt marshes and Atlantic Ocean. As a special venue for your wedding party to share a the joys of your celebration together, or a true corporate retreat away from phones and email, the Inn can be rented by the room or in its entirety.
Travelling to or from Castle Hill? For business or leisure? Need a ride to or from Castle Hill? We provide Castle Hill Minibus Transportation, Castle Hill Limobus Transportation, Castle Hill Car Service, Castle Hill Limo Service and just about any other service you can think of!