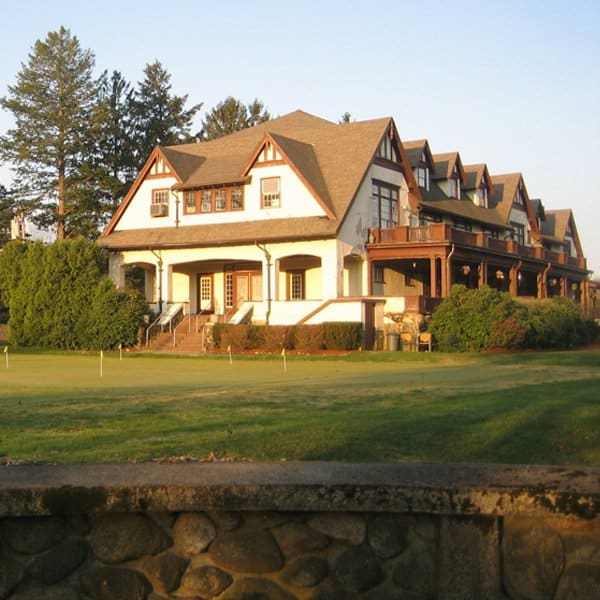 The Beverly Golf & Tennis Club is located at 134 McKay Street in Beverly, Massachusetts. It was built in 1910 by the United Shoe Machinery Corporation which, at that time, was the largest employer in the City and one of the world's leading manufacturers of shoemaking equipment. The Clubhouse was a social and recreational facility for the United Shoes employees. The company was at the forefront of voluntarily undertaking actions for the improvement of the working and living conditions of its employees.
The Clubhouse is notable for three categories of historic significance: architecture, community planning, and industry. The Clubhouse is an excellent example of a large scale, Arts and Crafts designed structure of the period and, perhaps more importantly it represents, at a relatively early date, a new sense of responsibilities and cooperation between a large industry and its employees which was eventually to pervade American social ideals.
The 100 year old stucco Scotch Tudor-style clubhouse still holds much of its original charm today.  Twin staircases lead to The Great Room, perfect for Wedding Receptions, and can accommodate up to 150 guests.  Impressive beams and authentic turnbuckles crisscross the 30' ceiling.   The Great Room also boasts large windows and antique skylights on all sides to allow for ample natural light. For an additional fee, the charming Veranda is available for guests to enjoy the Cocktail Hour.
Prices are designed to take the stress out of planning by including all gratuities and taxes, and incidental fees.  The club will do everything possible to help clients prepare for their special day so that they can relax and enjoy family and friends.
All wedding options include Use of the Great Room for Five Hours, Elegant Four Course Dinner, Chilled Champagne or Wine Toast, Table Linens, and Napkin Selections.
Travelling to or from Beverly Golf and Tennis? For business or leisure? Need a ride to or from Beverly Golf and Tennis? We provide Beverly Golf and Tennis Minibus Transportation, Beverly Golf and Tennis Limobus Transportation, Beverly Golf and Tennis Car Service, Beverly Golf and Tennis Limo Service and just about any other service you can think of!