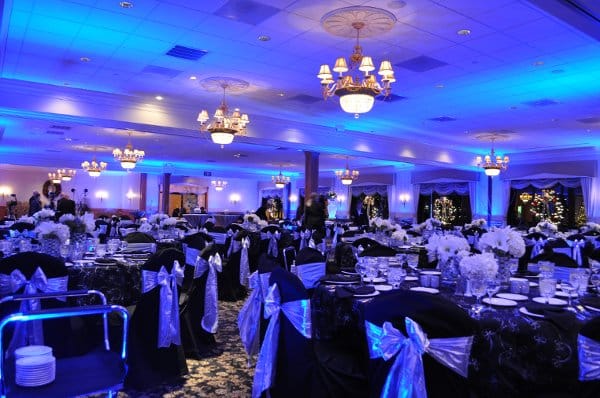 The Andover Country Club is the ideal place to not only celebrate at a wedding reception, but just imagine starting married life together saying "I do" in beautiful gardens. Guests are seated within the lush Victorian Gardens. Bagpipes, string quartet, whatever music you choose will only enhance the natural beauty. This setting, a favorite for local photographers, boasts views of our immaculate golf course and is adorned with two pergolas. Cascading seasonal flowers adorn each pergola and make a stunning backdrop for your wedding photographs and priceless memories.
The moment guests enter the reception room, warmth and beauty instantly surround them. The Mediterranean Art-Deco furnishings with marble-topped bars, working fireplaces, and grand pianos will welcome each of the guests as they take in the setting. Floor-to-ceiling windows expose the room to stunning views of the golf course's gently rolling hills. Don't think of the Andover Country Club as strictly being a site for your wedding ceremony and reception; you can host all your before- and after-wedding parties here too. The Links Swan Room can accommodate up to 40 guests and is the perfect location for your bridal shower, rehearsal dinner, or post-reception breakfast!
Weddings come with a first-class culinary experience. The courteous banquet staff will assist guests in any way to ensure a perfect and memorable event. A devoted banquet manager, captain, and staff will assist clients every step of the way assuring that their every wish is fulfilled. From the planning stages through the reception until the last guest walks out the door, they will attend to every detail with care.
Travelling to or from the Andover Country Club? For business or leisure? Need a ride to or from the Andover Country Club? We provide Andover Country Club Minibus Transportation, Andover Country Club Limobus Transportation, Andover Country Club Car Service, Andover Country Club Limo Service and just about any other service you can think of!