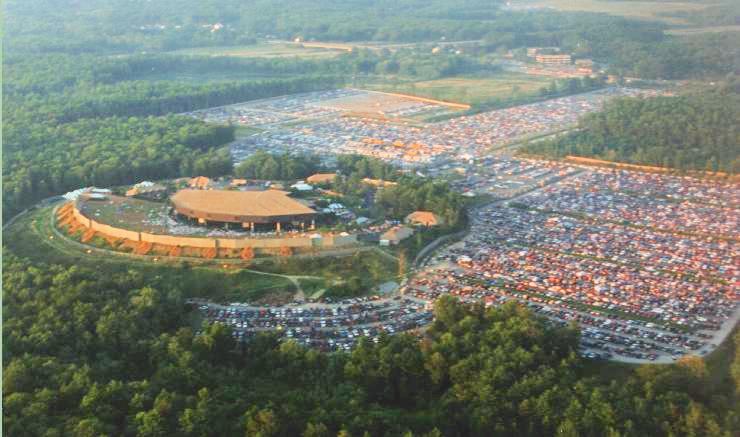 Xfinity Center (formerly known as Great Woods and as Tweeter Center) is a Live Nation-owned outdoor amphitheater located in Mansfield, Massachusetts, 30 miles south of Boston, Massachusetts, USA at the intersection of I-495 and Route 140. The seating capacity is approximately 19,900. Approximately 7,000 are covered seats in the pavilion, 7,000 are open-air seats, and general admission is on the lawn. It was originally known as Great Woods Center for the Performing Arts until 1999 when Tweeter purchased the naming rights, renaming the venue Tweeter Center. However, due to financial struggles and bankruptcy, the Tweeter Home Entertainment Group opted out of its naming contract with the venue.
Beginning in the summer of 2008, Comcast purchased the naming rights, officially renaming the venue Comcast Center. The 2008 WBCN River Rave was the last event at the "Tweeter Center", the next day, there was another event from (sister station) WZLX at the "Comcast Center". Because it is an outdoor venue, the Xfinity Center is generally open May through September. In 2014, Comcast renamed the venue to the Xfinity Center.
The Xfinity Center was named the top-grossing amphitheater of the decade by Billboard magazine in 2010.
Aerosmith performed at the Xfinity Center 23 times in their career and their live performance in the film Be Cool was filmed there as well. Portions of Jimmy Buffett Live: Tuesdays, Thursdays, Saturdays in 1999 and encores in 2008 were recorded here, as well as the Live in Mansfield, MA Soundboard album in 2003. Pearl Jam has performed here 11 times including the 7/11/03 show, which is the longest show the band has ever played.
Travelling to or from the Xfinity Center? For business or leisure? Need a ride to or from the Xfinity Center? We provide Xfinity Center Minibus Transportation, Xfinity Center Limobus Transportation, Xfinity Center Car Service, Xfinity Center Limo Service and just about any other service you can think of!