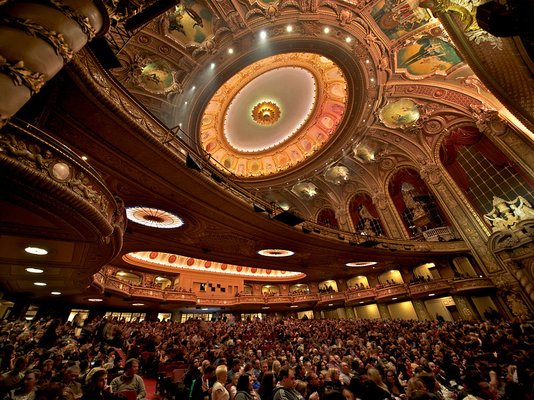 The
Wang Theatre
is an historic building at 252-272 Tremont Street in Boston. It is operated as part of the Citi Performing Arts Center. The Wang Theatre was originally known as the Metropolitan Theatre when it opened in 1925. The Metropolitan Theatre was developed by Max Shoolman and designed by architect Clarence Blackall, with the assistance of Detroit theatre architect C. Howard Crane. It opened for use in 1925. It seats more than 3,600 people. In 1962 it became the home of the Boston Ballet and was renamed the Music Hall. During the 1960s and 1970s, audiences could see the Stuttgart Opera, the Metropolitan Opera, Bolshoi Ballet and Kirov Ballet as well as popular movies and performing artists. With time though, they could no longer attract the large touring companies because of the size of their stage as well as their outdated production facilities. Converted to a non-profit center in 1980 and renamed the Metropolitan Center, they were able to attract theatrical performances again. In 1983, Dr. An Wang made a very large donation and the Wang Center was born. From 1989 – 1992, $9.8 million was raised to restore the Theatre to "its glory days of the 1920's"Boston based architecture firm Finegold Alexander + Associates Inc restored the theatre with Conrad Schmitt Studios performing the elegant decoration, gilded moldings, murals, scagliola and marbleized surfaces.The lobby was used in the movie The Witches of Eastwick as part of the house in which Jack Nicholson's character lived.
There are several parking lots located near the theatres: Standard Parking Lot adjacent to the Wang Theatre; the Radisson Hotel on Stuart Street; CityPlace Garage in Park Square; the Kinney Motor Mart on Stuart Street, Laz Parking Lot on Kneeland Street and the Garage at 100 Clarendon on Clarendon Street.
Travelling to or from the Wang Theatre? For business or leisure? Need a ride to or from the Wang Theatre? We provide Wang Theatre Minibus Transportation, Wang Theatre Limobus Transportation, Wang Theatre Car Service, Wang Theatre Limo Service and just about any other service you can think of!