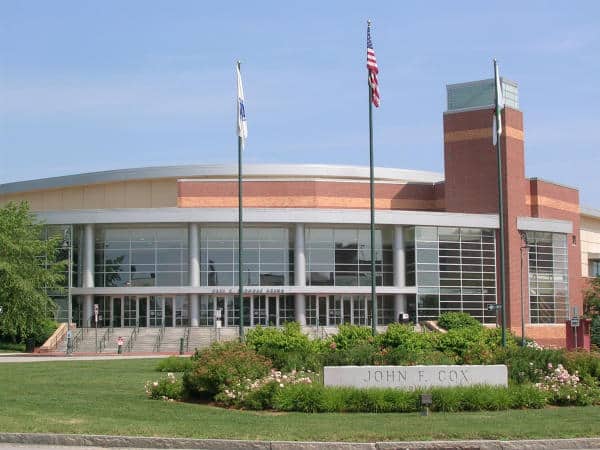 The
Paul E. Tsongas Center
at UMass Lowell is a multi-purpose facility owned by the University of Massachusetts Lowell and located in Lowell, Massachusetts. The arena was opened and dedicated to the memory of prominent Lowell native and U.S. senator Paul Tsongas, (who died in 1997) on January 27, 1998. The arena was built with $4 million funding from both the city and the university, plus another $20 million contributed from the Commonwealth of Massachusetts, largely in support of UMass Lowell.
The facility is home to the NCAA Division I University of Massachusetts Lowell River Hawks ice hockey team, who compete in the Hockey East Association. The facility was also home to the Lowell Devils ice hockey team, who competed in the American Hockey League from 1998 to 2010. The Devils ended their stay in Lowell due to financial difficulties and the arena's new ownership and has moved to Albany, NY to compete as the Albany Devils. Hockey seating capacity is approximately 6,496, while concert seating capacity is approximately 7,800. UMass Lowell ranks No. 12 in the NCAA's Division I for annual hockey attendance.
The Tsongas Center is the site of major concerts and other public events, including job fairs, skating competitions and the graduations of several local high schools. It also hosts major university events, such as the annual Commencement ceremonies, Open House for prospective students and Chancellor's Speaker Series. The series debuted in 2012 with bestselling author Stephen King. Also in 2012, the Tsongas Center was the site of a debate between then-incumbent U.S. Sen. Scott Brown and challenger Elizabeth Warren, which drew more than 5,000 people and was covered by more than 100 media outlets, including NBC News and MSNBC. In 2009, the boxing scenes of the 2010 film The Fighter were shot here with Mark Wahlberg portraying Micky Ward, Lowell's own boxer who won a world championship, and Christian Bale portraying his brother Dicky Eklund.
UMass Lowell has spent $5 million to renovate the arena since its acquisition. LED "ribbon" boards were installed in the winter of 2010. A new high-definition scoreboard and sound system were installed during the summer 2010. A new club seating area was built in conjunction with a new upscale bar. In the summer of 2011, new ice-making equipment was installed, followed by new luxury boxes and press box in 2012.
Travelling to or from the Tsongas Center? For business or leisure? Need a ride to or from the Tsongas Center? We provide Tsongas Center Minibus Transportation, Tsongas Center Limobus Transportation, Tsongas Center Car Service, Tsongas Center Limo Service and just about any other service you can think of!