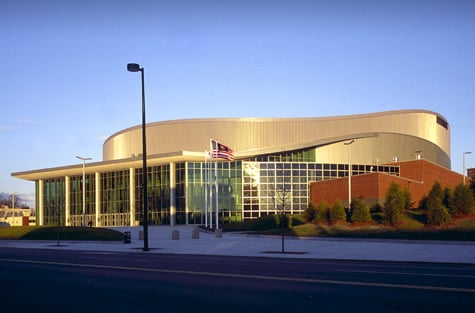 The
SNHU Arena
is an indoor events arena in Manchester, New Hampshire, and seats 9,852 for ice hockey, 11,140 for basketball and up to 11,770 for concerts. In 2016, Southern New Hampshire University purchased the naming rights. The facility was originally known during construction as Civic Arena, and this name still appears on most of the directional signs around town. The arena contains 542 club seats, 34 luxury suites, and 5 party suites. The SNHU Arena's physical features include its notable curved blue roof, which helps heavy New Hampshire snowfall to slide off. The arena's east, north and south facades are completely glass, which provides a view of the Manchester skyline to spectators. The west facade is made of brick. The arena has two luxury boxes, on the east and west sides of the interior.
The arena is home to the Manchester Monarchs of the American Hockey League and the former home of the Manchester Wolves of the now disbanded Arena Football 2. The University of New Hampshire men's hockey team also plays some of their home games there, annually against Dartmouth College in the Battle for the Riverstone Cup, and less frequently in Hockey East conference play. The arena has hosted the 2005 AHL All-Star Game, WWE Backlash in 2005, and the NCAA Men's Frozen Four Northeast Regional tournament in 2004, 2007, 2009 and 2011. UNH is scheduled to play host to the NCAA Ice Hockey Northeast Regional tournament again in 2013. State high school basketball and hockey championships have been held in the arena. Both the Boston Celtics of the NBA and the Boston Bruins of the NHL regularly play preseason games at the arena.
The arena has hosted dozens of concerts by major artists, many of whom have visited the Manchester venue on multiple occasions. In December 2007, then-Senator Barack Obama (D-IL) and TV icon Oprah Winfrey appeared at a campaign rally at the arena, drawing over 8,000 people to one of the largest political events in New Hampshire history. Obama also appeared at the arena in May 2007 to speak at the Southern New Hampshire University commencement. Hillary Clinton appeared at the arena in June 2007, to speak at the Manchester Central High School graduation. Adam Sandler, an area native, gave a speech at the 2008 Manchester Memorial High School graduation, and 2011 Manchester Central High School graduation. 2012 Republican presidential nominee Mitt Romney delivered his final speech before Election Day at the arena on November 5, 2012.The FIRST Robotics Competition holds its regional competition, the BAE Systems Granite State Regional, in the arena every year.
Travelling to or from the SNHU Arena? For business or leisure? Need a ride to or from the SNHU Arena? We provide SNHU Arena Minibus Transportation, SNHU Arena Limobus Transportation, SNHU Arena Car Service, SNHU Arena Limo Service and just about any other service you can think of!