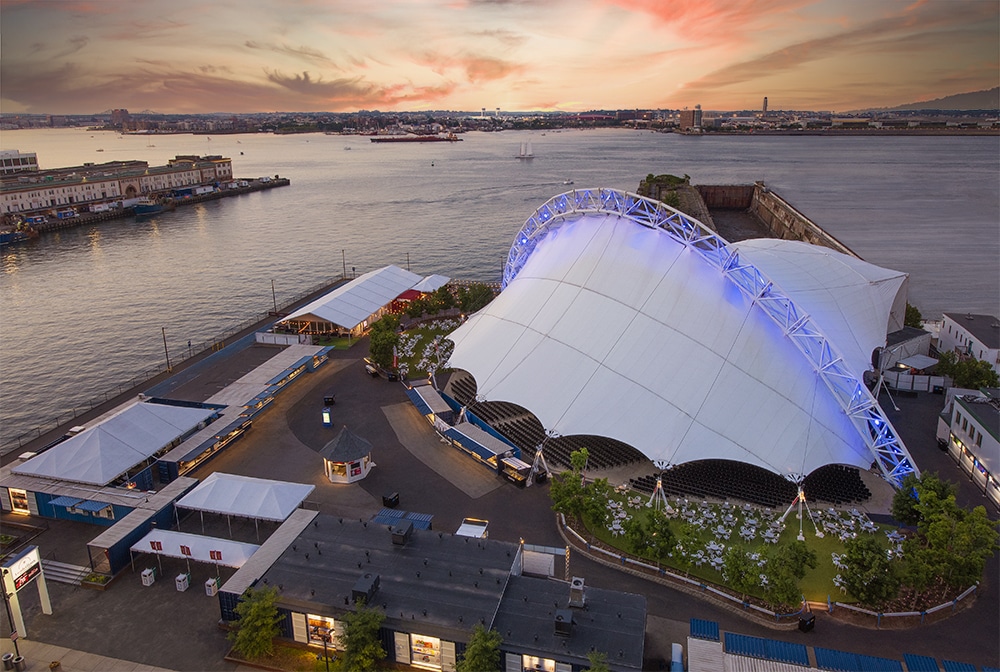 The Leader Bank Pavilion is an outdoor amphitheater located on the waterfront in Boston. With a seating capacity of 5,000 it is one of the larger venues in the area.
Originally known as the Harbor Lights Pavilion, Live Nation purchased the venue in 1999 and sold the naming rights to FleetBoston Financial, changing the name of the venue to the FleetBoston Pavilion. Later in 2021, Leader Bank won naming rights for the venue.
Located on Boston's Fan Pier, adjacent to Rowes Wharf, this seasonal amphitheater is designed for easy assembly in the spring and dismantling in the fall. The high profile of the roof allows spectators to take in panoramic views of the Boston skyline and provides the height needed for sound and lighting equipment behind the stage.
The circular footprint of the amphitheater, which covers an acre of land, would make it conducive to any arena-like activity, such as boxing, tennis, and circus performances, although only music is planned for this particular pavilion, which can be broken down and moved if desired. This kind of flexibility is the future of venue design, as owners and operators increasingly need to be able to relocate and reconfigure their theaters to take advantage of every booking opportunity in a very competitive market.
Travelling to or from the Leader Bank Pavilion? For business or leisure? Need a ride to or from the Leader Bank Pavilion? We provide Leader Bank Pavilion Minibus Transportation, Leader Bank Pavilion Limobus Transportation, Leader Bank Pavilion Car Service, Leader Bank Pavilion Limo Service and just about any other service you can think of!