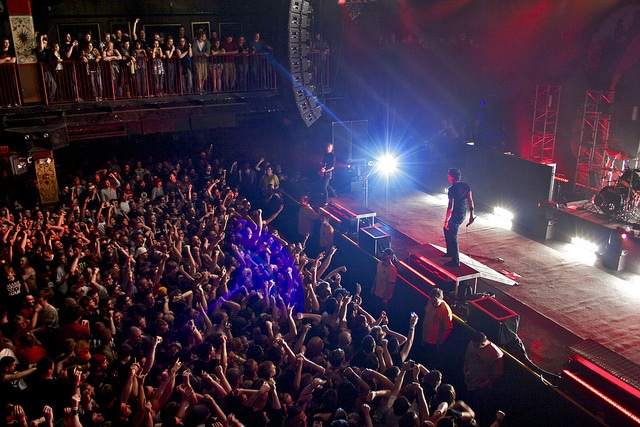 House of Blues
first location was in Cambridge's Harvard Square. It was opened in 1992 by Isaac Tigrett, co-founder of Hard Rock Cafe, and Dan Aykroyd, co-star of the 1980 film The Blues Brothers.
The first House of Blues opened on November 26, 1992 in the Harvard Square commercial district and retail area of Cambridge, Massachusetts. The company was originally financed by Dan Aykroyd, Aerosmith, Paul Shaffer, River Phoenix, James Belushi and Harvard University among others. This original location has since closed. However, the hands-in-concrete driveway ,where members of the Blues Brothers and others left their mark, still remains.
Aykroyd and Belushi remain associated with the brand and are present for most openings, attending and performing at the opening celebrations of both the Houston and the Boston Houses of Blues.
On July 5, 2006, Live Nation acquired House of Blues. As a division of Live Nation, the company currently operates 12 clubs throughout North America, with its location in Atlantic City being franchised. Nine of these locations also feature the VIP membership club, Foundation Room.
Travelling to or from the House of Blues? For business or leisure? Need a ride to or from the House of Blues? We provide House of Blues Minibus Transportation, House of Blues Limobus Transportation, House of Blues Car Service, House of Blues Limo Service and just about any other service you can think of!