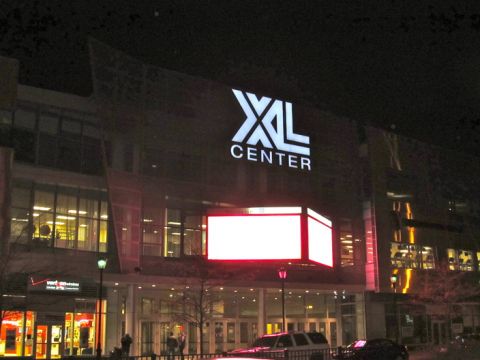 The
XL Center
, is a multi-purpose arena and convention center located in downtown Hartford, Connecticut, United States. It is owned by the City of Hartford and operated by Anschutz Entertainment Group (AEG) under contract with the Connecticut Development Authority (CDA). In December 2007, the Center was renamed when the arena's naming rights were sold to XL Capital insurance company in a 6-year agreement. The arena is ranked the 28th largest among college basketball arenas. Opened in 1974 as the Hartford Civic Center and originally located adjacent to a shopping mall (Civic Center Mall, which was demolished in 2004), it consists of two facilities: the Veterans Memorial Coliseum and the Exhibition Center.
On March 21, 2007, the CDA selected the Northland/Anschutz Entertainment Group proposal. It was revealed that Northland will assume total responsibility for the building paying for any and all losses, and will keep any profits. In 2012, put the contract out to bid with hopes of combining the operations with Rentschler Field. In February 2013, Global Spectrum of Philadelphia, was chosen to take over both the XL Center and Rentschler Field with Ovations Food Services taking over all food and beverage operations.
The Coliseum is the full-time home of the Hartford Wolf Pack AHL hockey team and part-time home of the University of Connecticut men's and women's basketball teams. In recent years, the UConn men have moved most of their important games—including the bulk of their Big East games—to the Coliseum. In 2011-12, for instance, they played 11 home games at the Coliseum and only eight at their on-campus facility, Gampel Pavilion.
It was the home of the New England/Hartford Whalers of the WHA and NHL from 1975–1978 and 1980–1997, and the Hartford Hellions of the MISL from 1980–1981, and the New England Blizzard of the ABL from 1996–1998, and hosted occasional Boston Celtics home games from 1975-1995. It was the home of the Connecticut Coyotes and later the New England Sea Wolves of the Arena Football League. The arena seats 15,635 for ice hockey and 16,294 for basketball, 16,606 for center-stage concerts, 16,282 for end-stage concerts, and 8,239 for 3/4-end stage concerts, and contains 46 luxury suites and a 310-seat Coliseum Club, plus 25,000 square feet of arena floor space, enabling it to be used for trade shows and conventions in addition to concerts, circuses, ice shows, sporting events and other events. The graduation ceremonies of Central Connecticut State University and other local colleges are also held annually at the XL Center.
Travelling to or from the Hartford XL Center? For business or leisure? Need a ride to or from the Hartford XL Center? We provide Hartford XL Center Minibus Transportation, Hartford XL Center Limobus Transportation, Hartford XL Center Car Service, Hartford XL Center Limo Service and just about any other service you can think of!