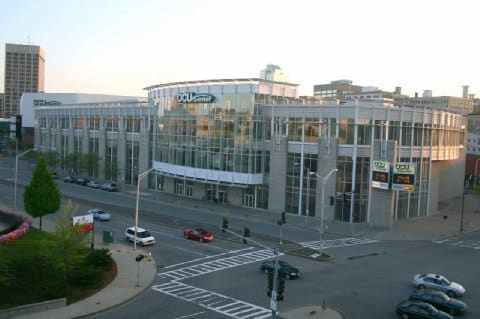 The
DCU Center
is an indoor arena and convention center complex, located in downtown Worcester, Massachusetts, USA. The facility hosts a variety of events, including concerts, sporting events, family shows, conventions, trade-shows and meetings. It is owned by the City of Worcester and managed by SMG, a private management firm for public assembly facilities.
The venue opened in September 1982 after years of construction delays, with a capacity of roughly 12,000. The opening event was a Frank Sinatra concert. The arena was expanded to 14,800 seats in 1989 with the addition of the 300-level balconies. The convention center addition was completed along with a renovation of arena infrastructure in 1997. This upgrade resulted in the facility's name change to Worcester's Centrum Centre. The venue received further updates with the DCU naming rights purchase, including new signage both inside and outside the facility, and a new center-hung video scoreboard for the arena bowl.
Some of the major improvements for the summer 2009 phase include a new electrical system, new ice chillers, and a completely new ice floor all of which are original to the arena which opened in 1982. Other improvements to the arena during phase 1 will include a new dasher board system, and a new seamless glass system which are often found in new arenas.
Other improvements slated for future phases include, but are not limited to, an improved concourse, improved concessions, new and improved restrooms and the addition of suites and club seats. There are several other things that will be worked on, but have not been finalized yet by the City of Worcester and SMG. During the summer of 2012, new improvements include a new glass wall on the Foster Street side of the building; major improvements to heating, ventilation and cooling systems; upgrades to restrooms and concessions; and a new dehumidification system.
Aside from concerts and shows, the primary tenant of the DCU Center is the Worcester Sharks AHL team, owned and operated by its NHL affiliate San Jose Sharks. Prior to this, the venue was home to the Worcester IceCats, also of the AHL. The New England Surge of the Continental Indoor Football League also called the Center home for two seasons, but after the 2008 season the team ceased all operations. They were the second indoor football team to do so, after the Massachusetts Marauders of the AFL. Boston area teams use the arena as an occasional home venue for pre-season games. Worcester has been host to the Boston Celtics every few years.
Travelling to or from the DCU Center? For business or leisure? Need a ride to or from the DCU Center? We provide DCU Center Minibus Transportation, DCU Center Limobus Transportation, DCU Center Car Service, DCU Center Limo Service and just about any other service you can think of!