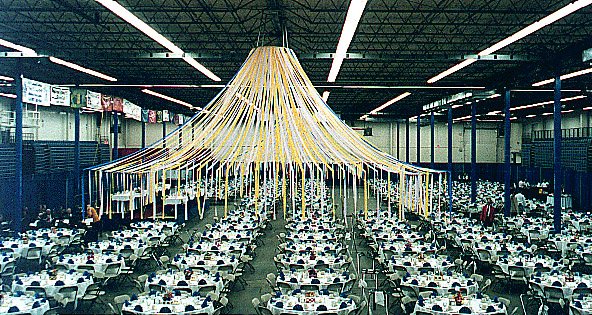 The Shriners Auditorium is a premier show and exhibition facility, ideal for a wide variety of events. Just 15 miles north of Boston, it has been an enormously successful venue for hundreds of shows and exhibits since its opening in 1977. Hundreds of thousands of people have made up the avid audiences and crowds of customers here. It is well known throughout the region as a major, mid-size auditorium and convention center.
The Auditorium has been the headquarters of the Aleppo Shriners since 1977. With over 100,000 square feet of total space, it serves as both a hub of Shrine-related activity, as well as the site of numerous events sponsored by outside companies and organizations. There are several spaces available within the facility for shows, functions and meetings. A modern, well-appointed building, it is completely handi-capped accessible, with elevator service to the second floor. Air-conditioning was installed in the auditorium in 2005 making it a year-round venue. The facility is conveniently situated just one mile off of Route-93 in Wilmington, in a small cluster of office parks. Large, interstate system signs mark the exits for "Shriners Auditorium." There is lighted parking for over 1,500 patrons' cars; in addition, there are approximately two acres of vendor parking, with camper hookups available. Four ticket windows open directly onto the front parking area.
The 37,000 square foot main auditorium has ably hosted trade shows and conventions, circuses, antique and home shows, and concerts, just to name a few. It is nearly football-field size, with a 24-foot ceiling. At the front entrance, patrons pass through a spacious 3,300 square foot lobby. Other access includes eight side/emergency doors, plus two overhead doors that are 12 feet wide by 14 feet high, admitting large vehicles.This extremely flexible space can be arranged to suit any type of exhibit or performance. In early 1999 a new, state-of-the-art Hussey seating system was installed. This comfortably accommodates an audience of 2,650 – and additional foor seating for 1,500 can be assembled. It is highly versatile – five separate sections can be extended to provide seating, or retracted, in part or in full, to provide up to 16,000 square feet of additional floor space. There is a 770 square foot stage at one end of the auditorium, and complete kitchen and concession facilities are available for patrons during show hours. A new audio system was recently installed with speakers throughtout the auditorium and a dedicated sound room.
Travelling to or from the Shriners Auditorium? For business or leisure? Need a ride to or from the Shriners Auditorium? We provide Shriners Auditorium Minibus Transportation, Shriners Auditorium Limobus Transportation, Shriners Auditorium Car Service, Shriners Auditorium Limo Service and just about any other service you can think of!