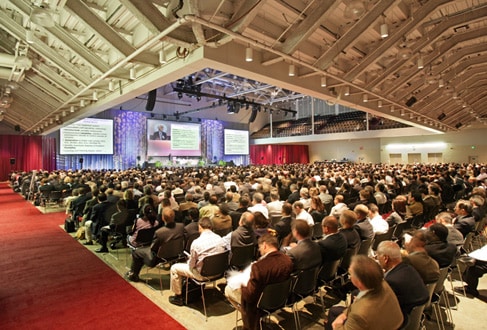 The
Hynes Convention Center
located in Boston was built in 1988 from a design by architects Kallmann, McKinnell & Wood. It replaced a previous building, also a convention center, regarded as "ungainly." The 1988 design attempted to relate in scale and materials to its Back Bay setting, adopting granite and setbacks. The severe gray interior is reminiscent of an early 20th-century German railroad station. The Center is named after former Boston mayor John Hynes. The building has 193,000 square feet of exhibit space and can accommodate up to four concurrent events. It features 71,600 square feet of meeting space with 38 permanent rooms and a 24,500-square-foot grand ballroom.
Annual occupants of the Hynes Convention Center are Anime Boston with around 19,000 unique attendees. Since 2005, the convention has grown in size every year. First Night Boston has used space at the Hynes each New Year's Eve. Harvard Model United Nations has used it for the inauguration ceremonies with thousands of students from all over the world. CollegeFest is a back-to-school college marketing event held yearly at the Hynes with around 15,000 attendees. Berklee College of Music has a yearly jazz festival/competition, drawing in high school jazz bands from both inside and outside of New England.
Travelling to or from the Hynes  Convention Center? For business or leisure? Need a ride to or from the Hynes  Convention Center? We provide Hynes  Convention Center Minibus Transportation, Hynes  Convention Center Limobus Transportation, Hynes Convention Center Car Service, Hynes Convention Center Limo Service and just about any other service you can think of!