Boston Convention and Exhibition Center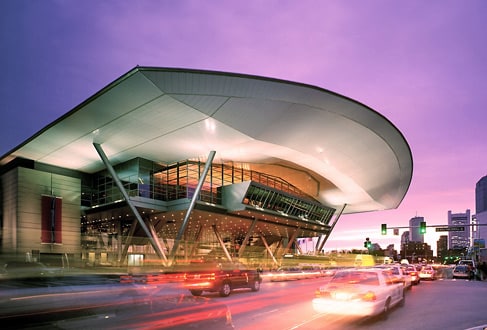 The Boston Convention and Exhibition Center is the largest exhibition center in the Northeast United States, with some 516,000 square feet of contiguous exhibition space. It is located on Summer Street near the South Boston waterfront, Boston's World Trade Center, and across the harbor from Logan International Airport. The main exhibition floor comprises three bays which can be isolated for separate shows or linked into one large space. The center is about one block south of the World Trade Center station on the MBTA Silver Line, with direct connections to South Station and Logan Airport.
For a short time in 1997 the owner of the National Football League's New England Patriots, Robert Kraft and Massport, also tried unsuccessfully to turn the same parcel of land that the convention center is on into a new home stadium for the football team that would have been closer to Boston, but both were unable to get the surrounding neighborhoods to agree with the deal because of concerns about traffic.
The push for a new convention center in Boston came in the late 1990s when the semi-annual Macworld trade show, previously held in Boston each summer, moved to the Jacob Javits Convention Center in New York City. It was believed that this move was in part because no single Boston venue could contain the entire show. The center has been controversial because it is located in the South Boston Seaport which is some distance from the main concentration of hotels in Boston. However several new hotels have been planned or built near the convention center. The Massachusetts State Legislature authorized the BCEC, which also provided for redevelopment of the Springfield, Massachusetts convention center among other actions designed to balance the impact across the state. The Project was a joint venture of the Boston Redevelopment Authority and the Massachusetts Convention Center Authority, who employed Tishman Construction as its owner's representative on the project. The convention center itself opened in June 2004. That summer Macworld returned to Boston as the BCEC's first trade show, but the show's reduced size, due in part to lack of participation by Apple, relegated its 2005 meeting to the smaller Hynes Convention Center in Boston's Back Bay.
Travelling to or from the Boston Convention and Exhibition Center? For business or leisure? Need a ride to or from the Boston Convention and Exhibition Center? We provide Boston Convention and Exhibition Center Minibus Transportation, Boston Convention and Exhibition Center Limobus Transportation, Boston Convention and Exhibition Center Car Service, Boston Convention and Exhibition Center Limo Service and just about any other service you can think of!