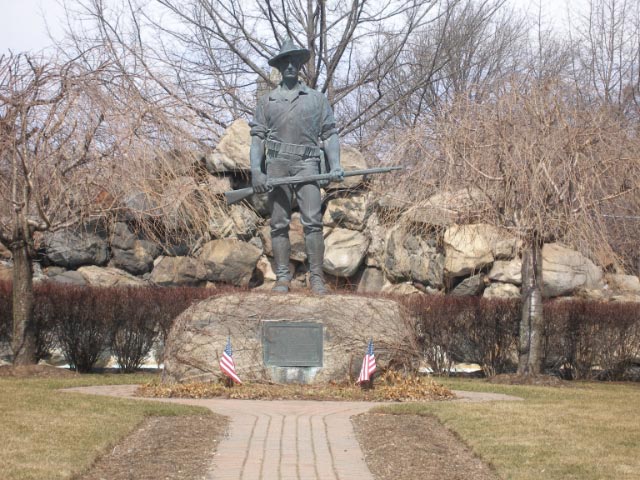 The Rattan Works (which made wicker furniture) was established in 1856 by Cyrus Wakefield. This later grew into the Wakefield Rattan Company and at one time had a thousand employees. In 1868 Cyrus Wakefield donated land and money for a new town hall, and in thanks the town voted to change its name from South Reading to Wakefield. The town hall, currently named for William J. Lee, is located at 1 Lafayette Street.
The northeastern part of Wakefield was home to an amusement park, Pleasure Island, dubbed "The Disneyland of the Northeast." Covering 80 acres, the park featured a plethora of rides and other attractions, including the Space Rocket ride, the Pirate Ride, the Moby-Dick ride (which featured a spouting mechanical whale rising from the depths), the Wreck of the Hesperus, the Old Chisholm Trail, theme restaurants, a shopping area, an arcade, mini-golf, a carousel, Monkey Island, and many others The park closed in 1969 after only ten years of operation due to unseasonably cold weather that brought diminishing returns among tourists. In April 1971, a fire burned down much of the amusement park. The area now consists of several office buildings and is called "Edgewater Park."
A place to visit in Wakefield is Lake Quannapowitt. It is a popular setting for walkers, joggers, bikers, and in-line skaters off Route 128. It is the site of many organized races from 5Ks to Ultra Marathons. Since 1992, Friends of Lake Quannapowitt is an organization that has worked to fulfill its goal of promoting public awareness and providing long-term protection and enhancement of Lake Quannapowitt and its environs. The Youth Sailing Program at Quannapowitt Yacht Club offers summer sailing classes for students age 8 and entering 3rd grade through high school. The program provides a safe, encouraging environment for students to learn to sail and make new friends. The classes are taught by instructors who have earned US SAILING instructor certification.
Whether you need Wakefield Airport Transportation, Wakefield Car Service for a night out, Wakefield Transportation, Wakefield Limobus, Wakefield Minibus, or a Wakefield Limo for anything from business outings to weddings, Webb Transportation is the company for you!