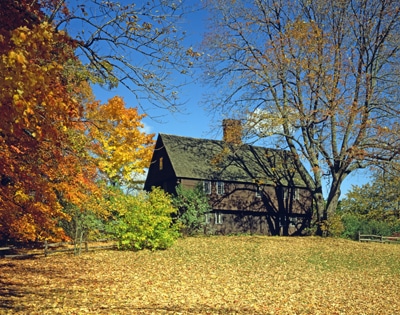 The turnpike and railroad were important technological advances affecting Topsfield history in the early and middle 20th century. The automobile, however, affected Topsfield more than any other technology by allowing its residents to disconnect where they lived from where they worked. By the 1950s, Route 128 ran from Nantasket Beach in Hull to Gloucester. With the rapid growth of high-technology industry in the suburban areas along Route 128, the highway came to symbolize the Boston high-tech community itself. In 1955, Business Week magazine ran an article titled "New England Highway Upsets Old Way of Life" and referred to Route 128 as "the Magic Semicircle."
Topsfield is home of the Topsfield Fair, which attracts upwards of 500,000 visitors a year.  The fair, one of the oldest in America, was started in 1818 by the recently formed Essex Agricultural Society. The first annual fair was a cattle show held by the society on October 5, 1818. The president of the society, Timothy Pickering, was awarded a first-place prize for the "superior performance of his plow." The Topsfield Fair ran every year following that first show, with the exception of three years during the Civil War and three years during World War II. The fair today features carnival rides, games and concert events in addition to the more traditional attractions, such as exhibitions of livestock, rabbits and cavies, crafts, horses and produce, and the Flying Wallenda's Family. The fair also hosts the All New England Giant Pumpkin Weigh-Off. The current record-holding pumpkin was entered in 2012 and weighed 2,009 pounds.
Traveling to or from Topsfield? For business or leisure? Need a ride to or from the Airport? We provide Topsfield Airport Transportation, Topsfield Car Service, Topsfield Limobus, Topsfield Minibus, Topsfield Limo Service, and just about any other service you can think of!