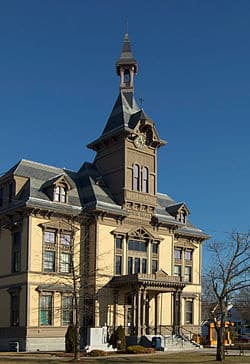 Saugus was first settled in 1629. Saugus is an Indian word meaning "great" or "extended". In 1637, the territory known as Saugus, which also contained the present day cities and towns of Swampscott, Nahant, Lynn, Lynnfield, Reading, and Wakefield, was renamed Lin or Lynn, after King's Lynn in Norfolk, England. The Saugus Iron Works, in operation from 1646 to 1668, was the first integrated iron works in North America. It is now a U.S. National Historic Site.
During the Industrial Revolution, many new industries moved to Saugus. Shoes and woolen goods were made in Saugus Center, and tobacco was manufactured in Cliftondale and East Saugus. Following the American Civil War, the Cliftondale section of Saugus became a major producer of tobacco as many of the southern tobacco plantations were in ruins. The Waite & Bond tobacco house became a major producer of cigars and the snuff factory in East Saugus was the nation's largest producer of that product. Due to its thriving tobacco industry, Saugus was dubbed the "Winston-Salem of the North". Saugus is also home to the oldest barber shop in the United States. The 111 year old George's Barber Shop is located in the Cliftondale section of Saugus.
The Newburyport/Rockport Line of the MBTA Commuter Rail passes through the southeast corner of town, between two stations in Lynn (at the GE plant and at Central Square) and one in nearby Chelsea. The Blue Line of the MBTA's subway line terminates in Revere; there has been talk of extending the subway into Lynn. Saugus is also served by several MBTA bus, linking the town with nearby train lines. The nearest airport is Boston's Logan International Airport.
At WebbTrans.com, we provide Saugus Airport Transportation, Saugus Car Service, Saugus Limo Service, Saugus Minibus, Saugus Limobus, and just about any other service you can think of!