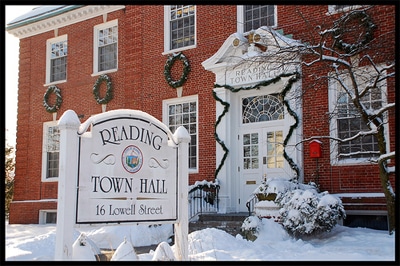 Many of the Massachusetts Bay Colony's original settlers arrived from England in the 1630s through the ports of Lynn and Salem. These citizens petitioned the government of the colony for a "place for an inland plantation". They were initially granted six square miles, followed by an additional four. The first settlement in this grant was at first called "Lynn Village" and was located on the south shore of the "Great Pond", now known as Lake Quannapowitt. On June 10, 1644 the settlement was incorporated as the town of Reading, taking its name from the town of Reading in England.
Reading played an active role in the American Revolutionary War. It was prominently involved in the engagements pursuing the retreating British Army after the battles of Lexington and Concord. John Brooks, later to become Governor of Massachusetts, was captain of the "Fourth Company of Minute" and subsequently served at the Battle of White Plains and at Valley Forge.
Some Places to visit while in Reading is The Parker Tavern – The town's oldest remaining 17th century structure, built in 1694. This property, on Washington Street, is currently owned and operated by the non-profit Reading Antiquarian Society. The roof of the St. Athanasius Parish, on Haverhill St., was designed by Louis A. Scibelli and Daniel F. Tulley, and is one of the largest hyperbolic paraboloids in the Western Hemisphere Pouring of the roof was a source of great interest. The pouring of the concrete roof had to be done in one day. Burbank Arena skating rink on Haverhill St. as well as private condos on Bear Hill St. both reside over the sites of decommissioned Army National Guard Nike Ajax missile silos. This is where the High School mascot received its nickname the Rockets.
Whether you need Reading Airport Transportation, Reading Car Service for a night out, Reading Transportation, Reading Limobus, Reading Minibus, or a Reading Limo for anything from business outings to weddings, WebbTrans.com is the company for you!