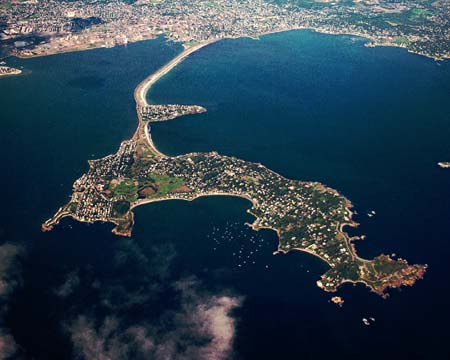 Nahant is one of the most unique communities in the commonwealth of Massachusetts. With just 1.0 square mile of land area, it is the smallest municipality by area in the state and is primarily a residential community. Native Americans called the area Nahant, meaning "the point" or "almost an island." The original Indian name of the place, Nahanten, signifies twins or two things united, referring to the two connected islands forming it. Located on a rocky peninsula jutting into Massachusetts Bay, it was first settled in 1630 in the second year of the Puritan arrival. The servants of Isaac Johnson grazed his cattle on the land, and it was also often used by citizens of Lynn for grazing cattle, sheep and goats. Before 1800, there were only three homes on the island: those built by the Breeds and the Hoods, and the Johnson home built by Jeremiah Gray. In the late 19th century, it was home to some of the country's first amusement parks, as well as a popular summer retreat for the wealthy, including the poet Henry Wadsworth Longfellow. During World War II, East Point was the site of a coastal artillery. It is now a town park, and location of the Marine Science Center for Northeastern University.
Some places to visit besides the plentiful amount of beaches is the Northeastern University Marine Science Center, located at East Point, also home to Nahant's observatory. Martin Scorsese filmed the lighthouse scenes for the movie Shutter Island here in the summer of 2008. To date, Shutter Island is Martin Scorsese's highest grossing film. The World War II Bunkers located inside Trimountain and East Point were initially designed to defend Boston Harbor and the surrounding waters from a possible attack during the war. During the cold war, the installation at East Point housed Nike missiles intended to stop a nuclear attack on Boston. The facility at Trimountain was for "aiming" the missiles. The site of the country's first lawn tennis game is at East Point as well.
Whether you need Nahant Airport Transportation, Nahant Car Service for a night out, Nahant Transportation, Nahant Limobus, Nahant Minibus, or a Nahant Limo for anything from business outings to weddings, Webb Transportation is the company for you.