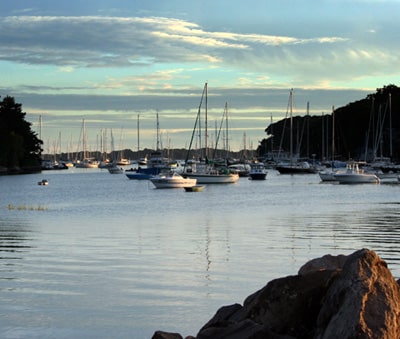 Manchester-by-the-Sea, originally known as Jeffrey's Creek, is known as Cape Ann's "quietest community." Though this town does not typically attract the number of tourists as most other Cape Ann communities, Manchester does possess scenic ocean front. Other places to check out include the Trask House Museum, containing an extensive collection of period furniture, artifacts, and fine art. The Kragsyde Mansion is on Smith's Point and was the summer home for George Nixon Black, Jr., who commissioned it to the famous architectural firm of Peabody & Stearns.
If you would like to sit back and relax during your visit to Cape Ann, one mile from Manchester town center is Singing Beach, so named because the sand comprising the beach squeaks when walked upon. This beach is quite popular during summer months in particular because it is easily accessible from Boston by a half-mile walk from the MBTA train station. Also located on this historic beach is the famous tourist attraction "Eaglehead", a rock composite that is the focal point of rock climbing and other recreation activities. For those with sweet teeth, Manchester is also home to Captain Dusty's, the creator of homemade ice cream. Manchester has also been featured in some high profile films such as The Proposal, The Edge or Darkness, and The Good Son.
Travelling to or from Manchester? For business or leisure? Need a ride to or from the Airport? We provide Manchester Airport Transportation, Manchester Car Service, Manchester Limobus, Manchester Minibus, Manchester Limo Service, and just about any other service you can think of!