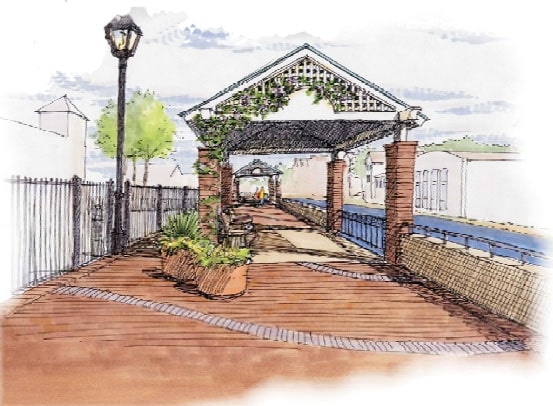 Ipswich was founded by John Winthrop the Younger, son of John Winthrop, one of the founders of the Massachusetts Bay Colony in 1630 and its first governor, elected in England in 1629. Several hundred colonists sailed from England in 1630 in a fleet of 11 ships, including Winthrop's flagship, the Arbella. That winter, they lost a few hundred colonists from malnutrition and disease. They also experienced their first nor'easter, which cost them some fingers and toes, as well as houses destroyed by the fires they kept burning day and night. The name "Ipswich" was taken "in acknowledgment of the great honor and kindness done to our people which took shipping there" stated Nathaniel Ward. He was an assistant pastor in town from 1634 to 1636, wrote the first code of laws for Massachusetts, and later published the religious/political work, The Simple Cobbler of Aggawam in America.
A must see point if interest in Ipswich is Castle Hill. Richard Crane, who purchased the land in 1910, hired the famous Olmsted Brothers to design the landscaping. By 1912, they had fashioned a series of ornate terraced gardens, with a magnificent grass mall, 160 feet (49 m) wide and lined with evergreens cascading from the top of the hill straight down to the water nearly half a mile away. Classical-style statuary flank this "Grande Alleè" at regular intervals. An opulent "casino" was built at its midpoint, replete with saltwater swimming pool, bathhouse, guest cabanas and a sizable indoor ballroom. Atop Castle Hill, Crane built an Italian Renaissance-style villa, with stucco walls and red tiled roof. His wife Florence, however, felt that the mansion was cold and drafty, and made her displeasure known. Crane countered by promising that if she would give it ten years, he would replace it if she still insisted.
In 1924 the Italianesque mansion was torn down, as promised, and a new mansion soon took its place. The new fifty-nine-room mansion included a main facade designed in the 17th-century Stuart style, a library with Grinling Gibbons carvings imported from an English country house, parquet flooring, and paneled interior rooms from an 18th-century London townhouse.
Whether you need Ipswich Airport Transportation, Ipswich Car Service for a night out, Ipswich Transportation, Ipswich Limobus, Ipswich Minibus, or an Ipswich Limo for anything from business outings to weddings, Webb Transportation is the company for you!