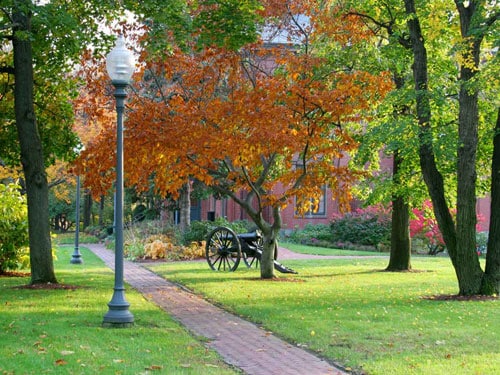 Watertown is a town in Middlesex County, Massachusetts, United States. It is part of the Greater Boston area. Archeological evidence suggests that Watertown was inhabited for thousands of years before the arrival of settlers from England. Two tribes of Massachusett people, the Pequossette and the Nonantum, had settlements on the banks of the river later called the Charles. The Pequossette built a fishing weir to trap herring at the site of the current Watertown Dam. The annual fish migration, as both alewife and blueback herring swim upstream from their adult home in the sea to spawn in the fresh water where they were hatched, still occurs every spring.
The first buildings were upon land now included within the limits of Cambridge known as Gerry's Landing. For its first quarter century Watertown ranked next to Boston in population and area. Since then its limits have been greatly reduced. Thrice portions have been added to Cambridge, and it has contributed territory to form the new towns of Weston, Waltham, Belmont, and Lincoln. In 1632 the residents of Watertown protested against being compelled to pay a tax for the erection of a stockade fort at Cambridge; this was the first protest in America against taxation without representation and led to the establishment of representative government in the colony. As early as the close of the 17th century Watertown was the chief horse and cattle market in New England and was known for its fertile gardens and fine estates. Here about 1632 was erected the first grist mill in the colony, and in 1662 one of the first woolen mills in America was built here.
Some other interesting things to note about Watertown is that it is home of The Perkins School for the Blind, founded in 1829. The Stanley Brothers built the first of their steam-powered cars, which came to be known as Stanley Steamers, in Watertown in 1897. Also, In 1988, Watertown Square became the new location for the Armenian Library and Museum of America, said to host the largest collection of Armenian artifacts in North America.
Need a ride to or from Watertown? We provide Watertown Minibus Transportation, Watertown Limobus Transportation, Watertown Car Service, Watertown Limo Service and just about any other service you can think of!