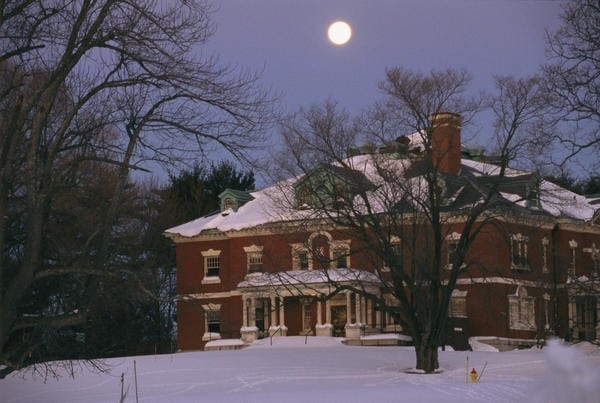 Belmont is a town in Middlesex County, Massachusetts, a suburb of Boston. Belmont remains a primarily residential suburb with little growth since the 1950s. It is best known for the mansion-filled Belmont Hill neighborhood, although most residents live in more densely settled, low-lying areas around the Hill. There are three major commercial centers in the town: Belmont Center in the center, Cushing Square in the south, and Waverley Square in the west. Town Hall and other civic buildings are located in Belmont Center. Large tracts of land from former farms and greenhouse estates form public or public-accessible areas such as Rock Meadow, Habitat (Mass Audubon), portions of the McLean Hospital tract and various town fields.
The major roads in the town are Concord Avenue, which bisects the town from east to west, Common Street and Pleasant Street (Route 60) which travel north-south through Belmont, and Trapelo Road and Belmont Street which run along the southern edge of the town. Massachusetts Route 2 runs along the northern border of the town. The town is home to McLean Hospital, a psychiatric hospital and research center, and the Boston Massachusetts Temple of The Church of Jesus Christ of Latter-day Saints.
Belmont High has an outstanding reputation for college placement, strong athletics, academics, music, and theater arts; a typical class size of about 290 students; and average SATs for the class of 2004 of 1179. Belmont students also have the option to attend Minuteman Career and Technical High School in Lexington. Minuteman High also offers adult education courses. In 2009, US News and World Reports gave Belmont High School a gold medal and named it the 100th best non-private high school in the United States and the second best in the state of Massachusetts behind Boston Latin School.
Traveling to or from Belmont? We provide Belmont Minibus Transportation, Belmont Limobus Transportation, Belmont Car Service, Belmont Limo Service, and just about any other service you can think of!