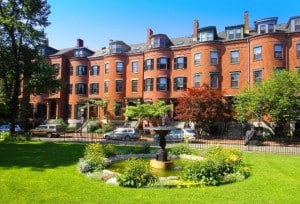 The South End was built upon a former tidal marsh starting in 1830, a part of a larger project of the filling of the Back Bay. Fill was brought in by trains from large trenches of gravel excavated in Needham. As the South End geographically grew from filling in land north and west, the city of Boston envisioned a large inner city residential neighborhood to relieve the crowded downtown and Beacon Hill. The city also hoped for a large and stable tax base. Architect Charles Bulfinch laid out some of the first filled land. Bulfinch designed a large residential park called Columbia Square located at the present Franklin and Blackstone Squares. His plan was to route traffic and the square, not through it. His plan was eventually abandoned and Washington Street once more divided the square creating today's separate squares.
The South End is built mostly of mid-nineteenth century bowfronts, which are uniform rows of five-story predominately red-brick structures of mixed residential and commercial uses. The most common styles are Renaissance Revival, Italianate, and French Second Empire. Row houses built in the last quarter of the nineteenth century, especially along the present Southwest Corridor Park show the influence of Charles Eastlake in the incised decoration on stone trim. Today, the South End is listed on the National Register of Historic Places and is a Boston Landmark District. It is North America's largest extant Victorian residential district.
Until the 1950's, the South End and bordering Roxbury was a jazz mecca, with clubs such as the Royal Palms, Eddie Levine's, the Pioneer Club, Handy's Grille, Tic-Toc, Connolly's, Estelle's, and Wally's Paradise. Wally's is the only venue to have survived to the present day. From 1915 to 1970, the American Federation of Musicians Local 535 was the top black musicians' union in the country, with local and national musicians such as Duke Ellington, Cab Calloway, Chick Webb, Earl Hines, and Jimmie Lunceford.
The South End's population has been diverse since the 1880's when Irish, Lebanese, Jewish, African-American, and Greek populations began to settle in the neighborhood. In the 1930's, a substantial immigration from Canada's maritime provinces found economic opportunity in Boston, and homes in the South End neighborhood.  Today, the neighborhood remains diverse integrating people of nearly every race and religion.
Travelling to or from the South End for business or leisure? Need a ride to or from the South End? We provide South End Airport Transportation, South End Car Service, South End Limo Service and just about any other service you can think of!